Madwolf Design are also book publishers, and as usual we insist on the highest possible standards of printing and production. With our long-standing contacts in the printing world we thoroughly research all the available options when it comes to materials and binding, ensuring a first class product that is tailored to the requirements of the publication.
We now have three titles available, click on the top two images for more information.
Daring to Fly, published in 2008 and priced at £45
Woodcock and pin-feather Paintings, is a new Limited Edition book published in 2012, and is priced at £85 per copy of the 500 available worldwide. Special Editions are available with an original drawing or painting by Colin Woolf.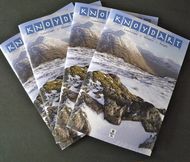 KNOYDART - its Landscape, History & People, published in 2013 on behalf of The Knoydart Foundation and is priced at £4.95. This informative and friendly little book is available from the Knoydart Foundation, please ring them direct on 01687 462242. More information from the foundation or contact us.